You gotta be skinny, but not too skinny, you gotta have curves, but not too curvy, you got to be tall but that's too tall for a girl… We will always be "too something" if we let others define us. Lini is proud in her own skin and is here to just be—one of a kind and beautiful.
Designed by: Kimya Gandhi
Current Version: 0.2
Current № of Styles: 1
Planned № of Styles: 6 weights + Italics
Scripts: Latin, Devanagari
№ of Characters: 979 (many more to come)
Current License Price: €25
The Narrowest Devanagari
Lini is a balancing act between style and legibility – typographic form and function. It is about as compressed as possible, for typical medium to large typesetting, while remaining quite legible. So while this design is not intended for setting small text, it is awesome for eye-catching headlines & titles. Use it anywhere from the names at the bottom of film posters to fun graphic tees!
Stand tall like Lini
Lini is a super condensed contemporary Devanagari & Latin typeface with not-so-regular proportions. The x-height is very large with short ascenders and descenders that are designed to look good for cool headlines or stacked close on top of each other. The Latin characters are low waisted because you don't always need tall legs to look good :)
Devanagari Conjuncts
The vertically stacked conjuncts in Lini fit the kana height as apposed to descending lower than the baseline. These conjuncts draw inspiration from old Devanagari manuscripts styles (peculiarly Jain manuscripts). The large kana height and the proportions of Lini, make it possible to revive this style in this contemporary design.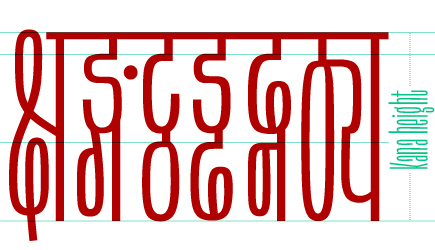 Your Help!
Since these fonts are still in progress, we can easily make modifications and improvements based on your opinions. If you have any thoughts, suggestions, criticisms, etc. for Lini, please let us know! The form is quick and anonymous (unless you share your name/contact).
We really appreciate your help!!!

Beta Updates
v0.2 → Language Support! 29 September, 2020
→ Extended Latin character set, new Devanagari linear conjuncts and matras, many other finer refinements.
v0.1 → Initial Release 18 May, 2020
→ Font contains 437 characters & one weight: Thin